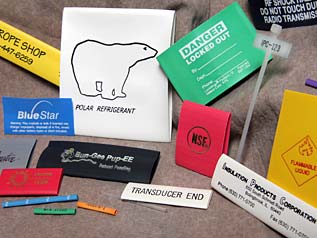 Identification Markers for Wire & Cable
• Hot stamped on shrinkable or non-shrinkable tubing and cable ties
• Large stock of tubing and cable ties for immediate delivery
• Custom made to your specifications
• No minimum quantity
Brand Dielectrics' hot stamp markers are a low cost, simple, attractive and completely dry process for marking or coding cable, wire and other parts for identification.
Hot stamp markers identify or finish products to improve profits by increasing production, efficiency and appearance. Parts can be customized with manufacturers logo, part number, date code and serial number on all types of sleevings, heat shrinkable tubing and cable ties. A wide selection of type sizes, tubing colors and imprint colors give that finished look to your product.
Brand Dielectrics will mark on U/L, CSA and military approved materials with a quality permanent imprint, cut to length and package to the customer's needs. No minimum quantity is required per order.

More info.